Belfast Trust probed after midwife obtains baby blood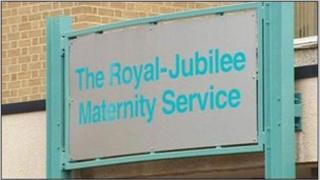 The Human Tissue Authority has taken regulatory action against a Belfast hospital for obtaining blood from babies' umbilical cords.
A spokesperson for the Belfast Trust said the action was taken because of a procedure carried out by a midwife at the Royal Jubilee Maternity Hospital.
She undertook cord blood collection for a mother, despite not being accredited by a firm.
Nurses working in the Belfast trust are trained to carry out this procedure.
Action was also taken against 21 other hospitals and one private company.
The health regulator said the blood - which some parents pay to bank privately because of the stem cells it contains, must only be collected by trained experts.
Cells for Life, a private company which deals with local cases said it had dealt with over 300 enquiries.