Carrick-a-Rede rope bridge inked in for stamp collection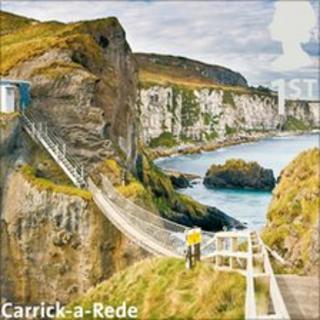 Carrick-a-Rede rope bridge in County Antrim is to feature on a new set of Royal Mail stamps.
The famous visitors attraction near Ballintoy will be one of 26 A to Z stamps in a new collection.
The stamps show some of the most iconic landmarks in Northern Ireland, England, Scotland and Wales.
Carrick-a-Rede will represent the letter C in the collection.
So far only A to L has been revealed but other notable landmarks include Downing Street, Edinburgh Castle and Blackpool Tower.
The first 12 stamps will be on sale from Thursday.
The first rope bridge at Carrick-a-Rede was built over 350 years ago by salmon fishermen. It links tiny Carrick Island to the mainland and is owned by the National Trust.
In 2009, 247,000 people visited the rope bridge.
Barbara Roulston from Royal Mail said: "Our A to Z stamps showcase some of the nation's most famous landmarks, celebrating areas across the UK that are enjoyed by millions of people.
"The image of the tiny Carrick-a-Rede rope bridge, 30m above the rocks below, makes for a wonderfully powerful first class stamp."