Fitzwilliam Hotel's losses narrow to £298k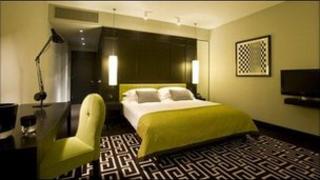 Annual pre-tax losses at the Fitzwilliam Hotel in Belfast narrowed to £298,000 in 2010.
The five star hotel opened in 2009 and lost just over £1m in its first full year of trading.
Turnover also improved in 2010, up to £4m from £2.5m the year before.
The hotel's owner June Burgess said the results "remain disappointing, owing to difficult trading across the tourism and hospitality industries".
The details are contained in the annual accounts of Graffan Hotel Ltd, the firm which owns the Fitzwilliam.
The hotel, which is next to the Grand Opera House on Great Victoria Street, employs about 75 people.
The most recent annual survey of the hotel industry in Northern Ireland found that there while there were signs of recovery in 2010, there is a long way to go before the industry recovers to pre-recession levels.
The survey, by Michael Williamson of consultants ASM, found that room occupancy rates averaged 63%.
In 2007 occupancy rates were well over 70%.
The research also found that "the over-riding concern" for hoteliers in Belfast is the relatively poor levels of accommodation demand during mid-week