IFA want Northern Ireland man as football boss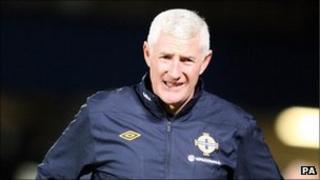 Irish Football Association President (IFA) Jim Shaw has said he would like someone from Northern Ireland to be appointed as the country's new football manager.
It follows Nigel Worthington's decision to step down from the job.
Mr Shaw did not dismiss the possibility of former Northern Ireland manager Lawrie Sanchez returning to the role.
He said he was "ruling no-one out" and that any appointment would be made after Christmas.
"Personally I would like it to be a recognised Northern Ireland person for the job, but we will assess any candidates and make sure in our opinion we make the best decision for the Irish Football Association," he said.
"The first thing we have to do, having had this announcement, is to sit down as a body and decide the process we are going to adopt to get a new manager."
Former Northern Ireland internationals, Jim Magilton and Iain Dowie, have expressed their interest in succeeding Worthington as Northern Ireland manager.
Shamrock Rovers boss Michael O'Neill, another former Northern Ireland player, has also been linked with the position.
Worthington has announced that the Euro 2012 qualifier against Italy in Pescara on Tuesday will be his last game in charge of the national side.
Criticism
Barnet boss Sanchez had said the writing was on the wall for Worthington last month after Northern Ireland lost 4-1 to Estonia in Tallinn. He indicated he was prepared to return as international manager.
His intervention brought criticism from Magilton.
On Tuesday, the IFA president said the association would "look at all the options" with regard to the new appointment.
"At this stage I am ruling no-one out," Mr Shaw added.
"We will consider it logically and we will make the right decision hopefully."
Worthington had been the subject of criticism from a section of supporters following a poor qualifying campaign.
The former Norwich City boss was in charge for four and a half years but failed to secure qualification for any major finals during his reign.
Northern Ireland had won just two of their last 23 games under Worthington.
His team scored only 12 goals in those 23 fixtures.
The IFA said the 49-year-old would see out the rest of his contract which will end on 31 December.
Worthington was reported to be on a salary of £450,000 a year.