Girl hurt after hammers used in sectarian attack on east Belfast house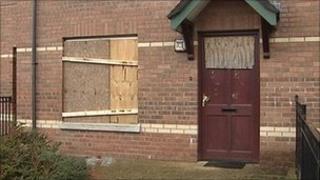 Police have said they are treating an incident in which a young girl was injured after a gang of men armed with hammers attacked a house in east Belfast as sectarian.
The incident in the Derwent Street area, near Dee Street, was reported shortly after 20:05 BST on Monday.
A man and a young girl were in the house at the time. The toddler received a cut to her forearm as a result of broken glass.
Police are appealing for information.
Sinn Fein MLA and Belfast Lord Mayor Niall O Donnghaile said he had spoken to the police and it was clear that the motivation was sectarian.
"Over 15 masked men attacked this young family in their own home, injuring a young child," he said.
"My thoughts are with the family who have indicated they will not return to the house."
East Belfast Alliance MLA Chris Lyttle said the attack was "absolutely appalling".
"My thoughts are with the girl that was injured and I hope that she makes a swift recovery," he said.
"This was an absolutely despicable incident and I appeal to anyone with information on it to contact police immediately so that those behind this can be quickly brought to justice."
The SDLP's Alasdair McDonnell said: "I condemn this vicious attack and believe that such attacks have no place in society.
"All children have the right to safety within their own home and community."