Jim Allister to table bill over Mary Travers killer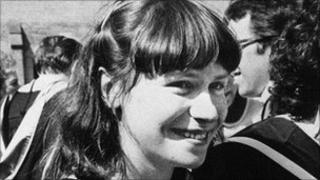 Jim Allister is to table a private member's bill to ban those convicted of an offence carrying a sentence of five years or more from holding the post of special adviser to a Stormont minister.
The TUV leader appeared at Stormont along with Ann Travers, whose sister was murdered by the culture minister's special adviser, Mary McArdle.
The bill would remove anyone convicted of such an offence already in the role.
Ann Travers said victims had been made to feel like second-class citizens.
In May, Ms Travers said she said she felt physically sick at the appointment of Mary McArdle as special adviser to the Sinn Fein Culture Minister Caral Ni Chuilin and called on her to resign.
On Tuesday she said: "When Ms McArdle was appointed it suddenly became an ex-prisoners' issue, the right of ex-prisoners to work - I feel very, very strongly that ex-prisoners have a right to work.
"However, I do feel that they have a duty to consider their victims before they take up positions."
Ms Travers said victims should be respected and properly listened to and not told they were living in the past
"Our family are still living with what happened in the past and as a consequence of Mary McArdle's appointment it has brought everything back up for us," she said.
"I couldn't sit back and see her murderer rewarded for what she did to Mary."
'Depravity'
Mr Allister said McArdle's appointment "illustrated the depravity" at the heart of Northern Ireland politics.
"Quite understandably there was a public outcry following the appointment - thanks in no small part to the courageous and outspoken stand of Ms Travers.
"I am calling upon all who believe in basic human decency, unionist and nationalist, to support my proposals.
"The bill presents Stormont with an opportunity to right a great wrong."
Sinn Fein said it would not be commenting on the bill until it had seen the details.
Shot outside church
McArdle was convicted of murdering Mary Travers in the 1980s.
First Minister Peter Robinson later asked Finance Minister Sammy Wilson to carry out a review of the process for the appointment of special advisors.
McArdle was part of an IRA gang which ambushed magistrate Tom Travers and his family in 1984 as they left Mass in south Belfast, shooting his daughter Mary, 22, dead.
Mary Travers' brother, Paul Travers, had also called on McArdle to resign.
Earlier this year, McArdle told the Andersonstown News she did not believe anything she said could ease the family's grief.
She was sentenced to a life term for the murder and was released under the Good Friday Agreement.