Newspaper review: NI and Republic of Ireland stories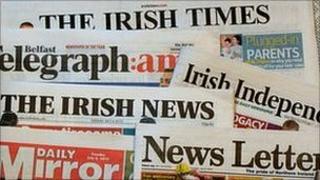 Journalist Fionola Meredith takes a look at the morning papers.
Concern over union officials' salaries in the Belfast Telegraph. The paper claims an exclusive for its report that union activists are drawing salaries worth more than £1.6m every year, from Northern Ireland's "cash-strapped" health trusts.
It says that dozens of employees were allowed to devote part or all of their working week to union duties at taxpayers' expense. Questions are being raised, but union leaders say it's a cost-effective way of ensuring good working relations.
And the Irish News claims an exclusive for its front page lead. It says that murder charges against seven men accused of the killing of Catholic community worker Kevin McDaid have been dropped. The men will now face manslaughter charges.
The News Letter focuses on a row over a £75,000 award to an IRA getaway driver. Defence secretary Liam Fox, who's been on the front pages for different reasons, said the payout to Aidan McKeever was "outrageous".
A rueful-looking Nigel Worthington appears on several front pages, after announcing his decision to step down as Northern Ireland manager. Whoever takes over, says the News Letter, will have to do one key thing - get the best from very limited resources.
Some eye-catching pictures in the Dublin papers. The Irish Times has a picture of four demonstrators against the EU-IMF bail-out, dressed as comedy burglars, pursuing European Commission man Nigel Nagarajan down a Dublin street.
The Irish Independent has a picture of Irish presidential candidate Dana beside a joke Halloween skeleton in a shop window. It's been that sort of campaign, the paper says, skeletons falling out of cupboards all over the place.
Elsewhere, more questions over the future of Dr Liam Fox. Another day, another picture of the defence secretary grinning away beside his friend Adam Werritty - this time on the front page of the Daily Telegraph.
As the Guardian reports, Dr Fox is still battling to save his ministerial career, as the UK's top civil servant, Sir Gus O'Donnell, launched a full inquiry into Fox's intricate links with Mr Werritty. The paper says Number 10 sources have privately admitted that it would be serious for Fox if the inquiry finds he knew Mr Werritty was making money from his access.
The Times notes that Mr Werritty appears to have no visible means of financial support. Safe for now, is the Telegraph's view of Dr Fox's position, but how long will it last? It wonders how Dr Fox could possibly justify 18 foreign visits with Mr Werritty.
As usual, the Matt cartoon has a sideways take. It shows military commanders looking at two missiles. One says, "as well as the smart bomb, we've developed the smart bomb's best friend".
And finally, the Daily Mail reports on the football scores changed to spare the losers' feelings. An under-16s junior league in Shropshire has stopped publishing match results in case the scores embarrass the youngsters.
All games will now be recorded as either one nil wins or one-one draws - regardless of the result. The league reckons that withholding the number of goals actually scored will spare the players the humiliation of losing badly.