Pathologist contradicts findings over Jennifer Cardy's cause of death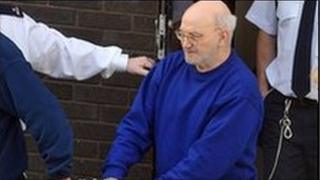 One of the UK's leading pathologists has been giving evidence at the Jennifer Cardy murder trial.
Dr Nathaniel Cary was asked to review the case in 2003, 21 years after Jennifer's death.
His findings contradicted those of the original pathologist, who found the cause of her death to be drowning.
Convicted child-killer Robert Black, 64, denies killing the nine-year-old, near Ballinderry in August 1981.
In 2003 Dr Cary re-examined the original findings of the post-mortem examination carried out on Jennifer's body in 1981.
At that time, the then state pathologist for Northern Ireland, Professor Thomas Marshall, found the cause of death to be drowning and said he could not say that Jennifer had been sexually assaulted.
Dr Cary said he was uncomfortable contradicting someone of Professor Marshall's standing but that he was convinced Jennifer could have been strangled before being put in the water at McKee's Dam, near Hillsborough, where her body was found six days after she went missing.
He said this could possibly have been with the sleeve of her own cardigan.
He also said he believed she had been sexually assaulted.
Earlier, Professor Marshall said he still believed his original findings neither supported nor contradicted that suggestion.
Giving evidence at Armagh Crown Court on Monday, Professor Marshall, said he had found no evidence of a sexual assault.
"I did think about it and came to the conclusion there was no evidence of sexual activity," he said.
He also said that while there were signs of neck compression "I've always been certain that she died from drowning".
Prof Marshall told the court he knew of Dr Cary's views but that he stood by his 1981 findings.
Dr Cary has been involved with some of the UK's highest profile cases, including the Soham murders, the Ipswich serial killings and the death of former Russian agent Alexander Litvinenko.
Under cross-examination, David Spens QC asked Dr Cary was he aware that Prof Marshall stood by his evidence about the sexual assault even when he was informed about new swab and stain evidence in 2008.
New techniques
Dr Cary said he knew Prof Marshall's stance on the sexual assault, but noted that he came at the new information from the perspective of a retired pathologist who had not practised for almost 20 years.
He said that developments in post-mortem examination techniques now made it easier to identify sex attack injuries.
The expert stressed that he was not criticising Prof Marshall's work.
"I would not want to be judged in many years time by the techniques of today," he said.
Dr Cary has suggested that Jennifer's attacker may have used the sleeve of her own cardigan to tie round her neck as a ligature.
Mr Spens asked him was it possible that if a ligature was used the attacker may not have intended to kill Jennifer, but to control her.
"Death, if it was caused by compression might not have been the aim, but an inadvertent consequence," said the lawyer.
But Dr Cary said it would have been clear to anyone that compressing the neck to the point of causing unconsciousness was highly dangerous.
In regard to the cause of death, he acknowledged that strangulation and drowning were both possibilities.