Derry man Jonathon Ayton 'stole hearse, abducted girls'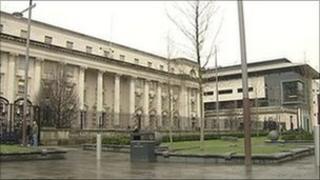 A Londonderry man stole a hearse and then abducted his teenage daughter and her friend, the High Court has heard.
Jonathon Ayton took them across the border and drove around at high speeds with them in the vehicle for up to 12 hours, according to the prosecution.
It was also alleged he told the girls to take the Sim cards from their mobile phones during the overnight incident.
A judge was told that Mr Ayton, 36, of Bonds Hill, Derry, is to be prosecuted for two counts of child abduction.
He has also been charged with a "plethora" of motoring offences, including taking the hearse, dangerous driving and having no insurance.
Mr Ayton was refused bail due to the risk of further offending and concerns he may not turn up for trial.
'No coffin'
The court heard the hearse was taken from outside a funeral director's at an undisclosed location in the city in September 2010.
Although no coffin was in the vehicle, Kate McKay, prosecuting, said: "It was being loaded at the time it was stolen."
She claimed the vehicle was driven erratically and then used to collect both Mr Ayton's daughter and her friend the same night.
Mr Ayton then drove them into the Republic of Ireland, with the girls believing he had either been drinking or taking drugs, according to the prosecution.
Mrs McKay said the two friends asked to go home but were not returned until the following morning.
"The girls were said to be extremely upset by the whole incident," she told the court.
"That part in the Republic of Ireland is under investigation by gardai."
She added that PSNI officers who were alerted to events surrounding the incident were informed Mr Ayton had gone off in "an unusual looking car".
A defence barrister argued that the accused should be released on bail due to the delays in the case.
He said the decision to prosecute for child abduction was only now being disclosed.
"There has been no explanation whatsoever for the delay in this," the barrister added.
Mr Justice Hart acknowledged the length of time the case has taken was unsatisfactory.
But refusing the application, the judge said: "I'm entirely satisfied that if admitted to bail there is a very grave risk he would not turn up and would abscond."