Man and teens arrested over Enniskillen crash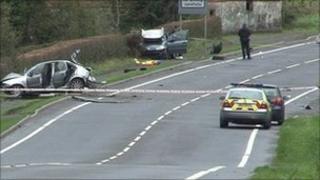 A man and two teenagers have been arrested in connection with a crash involving a stolen vehicle in County Fermanagh.
A number of people were taken to hospital following the collision between Fivemiletown and Enniskillen on Tuesday morning.
A 22-year-old man, a 15-year-old boy and a 14-year-old boy are being questioned by police.
The PSNI said they believe the car they were driving was stolen in Dublin.
Officers had been following the car from the M1. The Police Ombusdsman is currently investigating the accident.
The man was arrested on suspicion of dangerous driving causing grievous bodily injury, driving whilst unfit, no insurance, aggravated vehicle taking and failing to stop and remain at the scene of an accident.
The 15-year-old was arrested on suspicion of allowing himself to be carried in a car taken without consent.
The 14-year-old was taken into custody on suspicion of allowing himself to be carried and aiding and abetting aggravated vehicle taking.