Homophobic bullying 'prevalent' in NI schools - report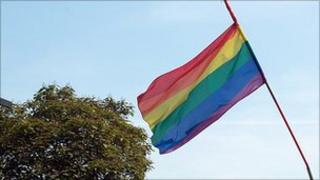 Projects for gay and lesbian young people have said a new report reveals homophobic bullying is still prevalent in schools.
Cara-Friend and the Rainbow Project said there was a lack of protection for lesbian, gay and bisexual young people.
They say this amounts to them being denied a right to education in a safe and welcoming environment.
However, the Equality Commission said students who feel discriminated against can take action under existing laws.
It said it had not been approached by any young person who wanted to take a case about their education.
Shimna Integrated College in Newcastle introduced training in how to deal with homophobic bullying two years ago.
Principal Kevin Lambe said the training for all members of staff had been "successfully introduced" and was "well supported".
"We will not tolerate discrimination based on religious beliefs, gender or sexuality. It's included in our ethos right from the start," Mr Lambe said.
"I think every school will say that homophobic bullying exists.
"It was not such a common subject at the time so we ultimately decided that we would have specific training for this.
"We have had that training, it has been in place for two years, and I do believe that the training helps us to intervene more positively and with better outcomes.
"I haven't had a single dissenting word from the parent body."