Northern Ireland farmers' fears over subsidy payments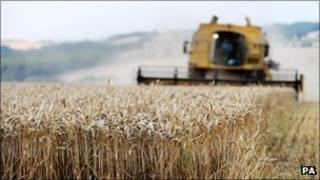 There are fears that Northern Ireland farmers could lose out on millions of pounds in subsidy payments.
They will find out later how plans to reform Europe's common agricultural policy will affect them.
At the moment they receive £230m a year in subsidies, but that will soon be reduced.
The Ulster Farmers Union said the plan to freeze the European budget over the next five years could hit farm incomes and raise food prices for consumers.
"If we end up with a smaller single farm payment then we are going to need the balance to come from the market place," Ulster Farmers Union spokesman James Brown said.
"At the minute that common agricultural policy payment is really a food subsidy to the consumer."