Pipe bomb left at Polish couple's home in Steeple, Antrim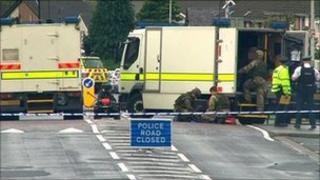 A pipe bomb has been left on the windowsill of a Polish couple's house in Antrim's Steeple estate.
It was discovered at the house at Seacash Drive at about 08:00 BST on Wednesday.
A number of people were moved from neighbouring homes due to the alert. The device has been removed and Parkhall Road has now been reopened.
A loyalist group called the BBC on Wednesday to say it carried out the attack.
Ulster Unionist councillor Adrian Watson said a small minority of people were targeting foreign nationals in the area.
"Last week there was a home subjected to an attack by a small mob of thugs," he said.
"Following that, graffiti went up in the estate warning that foreigners would be targeted."
Ken Wilkinson of the Progressive Unionist Party - whose own home was targeted in a pipe bomb attack last year - said he had met with the couple on Wednesday morning and apologised for what had happened.
He said he told them "the people who carried this out not only attacked you, but also this whole community".
"These people carried this out in the name of loyalism - these people are loyal to nothing. These people are just bigots.
"I'm disgusted they are claiming this is the name of loyalism."
Mr Wilkinson said a young family lived next door to the couple, elderly people lived nearby and there was a primary school close to the house. He said the bomb could have killed anyone in the area.
He added the family had lived in the estate for six and a half years with no trouble.
Maciek Bator from the Polish Association said the Polish community was grateful for the support from local residents and community workers following the attack.
However, he warned that some Polish residents would probably leave after such attacks.
"Some people will decide to move out of this area and some will decide to move out of Northern Ireland," he said.
"They will take a bad image of Northern Ireland with them."
The SDLP's Grainne Teggart said the attack had created "disruption and fear".
"The positive contribution Polish families and other immigrant families make to the local community is in stark contrast to the negative, sinister and despicable contribution of those responsible for this alert," she said.
PSNI Chief Inspector Natalie Wilson said: "There has been some speculation in the local community in recent weeks with regard to crime and anti-social behaviour.
"The most appropriate channel for reporting such incidents is through the local police.
"Everyone has the right to live in Antrim, or anywhere in Northern Ireland, without fear of intimidation."