Major extension for Quays shopping centre in Newry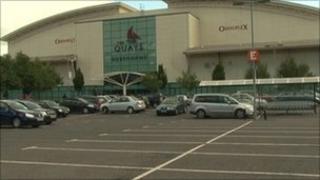 A major extension to the Quays shopping centre in Newry has been approved by planners.
It will involve creating 12,500 sq metres of retail space, linked to the existing mall by a glazed bridge.
There will also be a 600 space multi-storey car park.
The centre is owned by Parker Green International, the property firm controlled by Newry developer Gerard O'Hare.
A spokeswoman for Parker Green said the extension is "demand led" meaning retailers are actively looking for space at the centre.
The Quays extension will cost an estimated £35m.
The Parker Green spokeswoman said it was being funded by the Parker Green International Investment Programme.
She added that about half of the 13 new units have already been reserved, though the names of the retailers have not been disclosed.
Mr O'Hare said the development would help secure the vitality of Newry city centre as well as offering hope "that there is a light at the end of the current, dark economic tunnel".
He added that it was "not easy" to plan new projects in the present market conditions and that it would "remain difficult" to deliver the plans.
Bank loans
Building work is expected to start in the latter half of 2012, with completion due in 2013.
It is expected that the project will provide work for 200 people during construction and 300 full and part-time retail and associated jobs on completion.
The latest accounts for Parker Green, filed last month, indicate that some of its bank loans have been taken over by the Irish government's National Assets Management Agency (Nama).
Nama has taken control of virtually all land and development loans which were advanced by the Dublin-based banks, including £3.5bn of property loans in Northern Ireland.
Although Nama is sometimes described as "a bad bank" it has taken over performing loans - those that are being repaid in line with their original conditions.
In an interview with the Sunday Tribune in 2009, Mr O'Hare said he was one of the few developers with performing Anglo Irish Bank loans.
He told the paper: "We are collecting our rents and we able to pay our debts.
"We are one of the few in Anglo who are good, who have survived and who are solvent."
In the 2009 interview, Mr O'Hare said he was raising money from US investors as well as talking to German and Austrian banks.