50 new charges for bomb hoax accused Stuart Rankin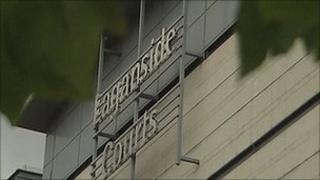 A man accused of a series of hoax bomb warnings and threatening to kill Chief Constable Matt Baggott will face nearly 50 new charges, a court has heard.
Stuart Rankin allegedly made bogus claims that devices were left at a PSNI station, shopping centre and courthouses in Belfast and Derry.
But he has now been further charged with hoax warnings about bombs in Craigavon and Newry.
He was remanded back into custody until next week.
Mr Rankin, 24, of Glencairn Crescent, Belfast, is also accused of more than 20 counts of harassment and threats to kill.
A total of 49 new charges were brought after he was released from custody on Tuesday to be questioned by police investigating the incidents.
An officer told Belfast Magistrates' Court that she could connect Mr Rankin with the alleged offences.
He was already accused of hoax warnings about bombs at Strandtown PSNI station in east Belfast, the Northern Ireland High Court, Bishop Street Courthouse in Derry, and the CastleCourt shopping complex in Belfast.
All of the alleged offences occurred during July and August this year.
Mr Rankin is further charged with eight counts of threats to kill.
Radio threats
One of those he is accused of threatening is Chief Constable Baggott.
Another of the charges relates to allegations that he threatened to kill staff at the U105 radio station.
His lawyer, Brian Archer, told the court on Wednesday that the alleged bomb hoaxes all involved calls made in Belfast.
He indicated that medical reports have been prepared on his client.
Mr Rankin is due to apply for bail again next week.
District Judge Fiona Bagnall commented: "I'm not pre-judging anything, but it may be an uphill struggle."