Wooden shed is dumped at Castlederg cemetery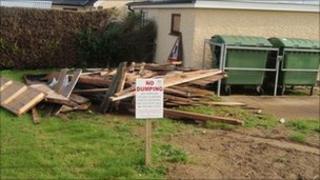 The remains of a wooden shed have been dumped at a cemetery in Castlederg, County Tyrone.
It is believed a tractor and trailer with the wood were driven into the cemetery on the Drumquin Road.
The items were then dumped on a plot laid out for new graves, beside a council "no dumping" sign.
The sign had been put up after previous minor dumping at the site. The council described the latest incident as "unbelievable".
Ulster Unionist Councillor Derek Hussey, whose own burial plot is on the land, said he was "totally repulsed" by the incident.
"For anybody to consider coming into the cemetery grounds in Castlederg and dumping rubbish of this nature is absolutely appalling," he said.
"The same person could have driven three miles up the road to our local council skip site and left the rubbish there for free.
"Why did they have to come in and desecrate this sanctified ground?
"It's a peaceful and hallowed place for people to come and pay their respects to their relatives."