Woman sent to cell for swearing at Dungannon judge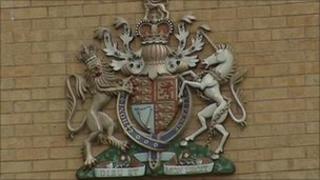 A woman who swore at a judge after he jailed her son was sent to a cell for the rest of the day.
Debbie McGuigan, 45, from Cloneen, was in the public gallery at Dungannon Magistrates' Court when her son and nephew were sentenced.
They got nine months each for attacking a car using a pitchfork and hatchet and threatening to kill its owner.
After they were led away, McGuigan got up and called the judge "a b*****d" just before reaching the door.
The judge ordered her to be brought back and she was placed in the cells where she remained for the rest of the day.
Later, a calmer McGuigan was returned to the dock and Judge Meehan said: "The court has a duty to deal with offenders.
"This was a grim case of two cousins, who exhibited gangster style behaviour whilst threatening to kill others at the scene.
"The actions of Ms McGuigan during the hearing were ostentatious and theatrical as though to gesture some sort of solidarity with those who were sentenced. She went a step further when referring to me as she did."
Defence barrister Blaine Nugent said he could not refute the judge's remarks adding McGuigan accepted her actions were wrong and "emotions were running high".
McGuigan apologised from the dock and Judge Meehan stopped short of a custodial sentence, which he had formerly warned and which is his usual practice in such cases, and instead imposed a fine of £100.