Irish publish report aimed at mortgage distressed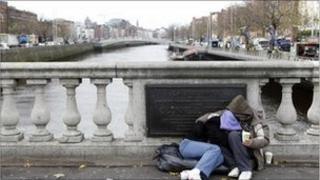 The Irish government has published a new report into ways of helping distressed mortgage holders.
It suggests that trade-down mortgages, split mortgages and sale by agreement offer possible solutions to mortgage over-indebtedness.
The intergovernmental group which produced the report was chaired by accountant Declan Keane.
It said that both borrowers and lenders had to recognise that some mortgages were currently unsustainable.
The Keane Report said mortgage difficulties should only be considered on a case-by-case basis, taking individuals' circumstances into account.
'No debt forgiveness'
It did not recommend blanket debt or negative equity forgiveness.
The report stated that the "vast majority of mortgage holders can and must continue to meet their mortgage commitments and indeed any other debt obligations".
But it also said that the state had a significant role to play.
New proposals include introducing two mortgage-to-rent social housing schemes, which would use approved housing bodies and the leasing of houses by banks to local authorities.
It also proposed that the mortgage interest supplement scheme should become time limited. It recommended that a more specialised mortgage advice service be set up.
There is a warning that given the challenging environment, the reality is that some people will lose their homes.
The report also warned that further deterioration in the level of mortgage arrears is expected and the government should consider early implementation of its recommendations.
Irish Finance Minister Michael Noonan said the report set out important measures to address the problem of mortgage difficulty.
"It is incumbent on the state authorities and the banks to fully consider these and for the financial institutions to bring forward other innovative solutions which help address this difficult and complex problem." The report will be discussed in the Dail next week.