Four people charged over Downpatrick 'sham marriage'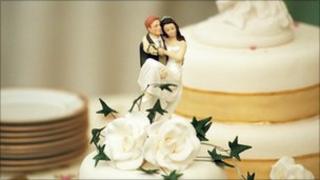 Four people from Leicester arrested on suspicion of staging a sham wedding in Downpatrick have appeared in court charged with immigration offences.
UK Border Agency officers intervened to stop the marriage between a Leicester woman and an Indian national at Down District Council offices on Tuesday.
Ayesha Mullan, 25, a British citizen, was charged with 10 counts of assisting unlawful immigration.
The would-be bride also faced two counts of bigamy and one of perjury.
She was granted bail when she appeared at Bangor Court on Wednesday.
The would-be-groom Salauddin Daudbhai Bhadki, 37, an Indian national, was charged with seeking to obtain leave to remain in the UK by deception. He was remanded in custody.
Mohasin Daudbhai Patel, 27, and Vali Ahmed Musa Patel, 58, who were to be witnesses at the wedding were also granted bail to appear in court at a later date.