We fell short over St Andrew's says DUP leader Peter Robinson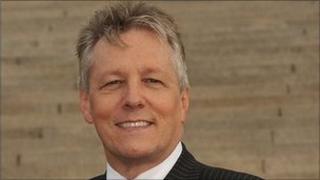 DUP leader Peter Robinson has admitted his party fell short in preparing its supporters for the power-sharing deal negotiated at St Andrew's.
The DUP leader and Northern Ireland's first minister said when the final agreement with Sinn Fein was reached "so fast", there was a sense of shock.
He was speaking at the Institute of Irish Studies, Liverpool, on Wednesday.
Mr Robinson credited Ian Paisley's standing within unionism for holding the agreement together.
"I would admit the party fell short in preparing its support base. The process had been so slow and the final agreement reached so fast that there was a sense of shock when a deal was announced at St Andrew's," he said.
"Only Ian's excellent standing within the unionist community held the agreement together in the face of surprise and even astonishment."
M Robinson said the DUP would only remain the largest party in Northern Ireland if people were satisfied it would work with others to deliver a better future for everyone.
He told the audience in Liverpool that political and constitutional stability, where everyone had the opportunity to succeed, was the best guarantee that Northern Ireland's place within the UK would remain secure, no matter what demographic changes took place.
He said that by confounding expectations, defying its critics and taking its time to make a deal, the DUP had ultimately made peace stronger and more secure.
Talking about his relationship with former prime minister Tony Blair, he said he met the Labour leader at Stormont as talks heated up on devolution in 2004.
"We met in Parliament Buildings, but unfortunately, while Tony was seeking to convince us of his good and honourable intentions, the building's fire alarm went off."
Mr Blair asked: "What's that?" Mr Robinson quipped: "It is the lie detector."
"I think that indicates the level of trust that then existed between us," he said.