Developers get demolition warning from Alex Attwood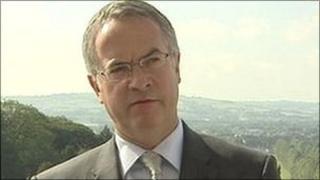 Developers in Northern Ireland may have to replace any protected building they knock down, brick for brick.
The proposed punishment was one of the actions listed at a heritage crime summit called by Environment Minister Alex Attwood.
This is the second such summit in two months.
The first was called after 11 listed or historic buildings were damaged by fire. Often the fire turned out to be a case of arson.
There have also been a series of demolitions in Northern Ireland where would-be developers destroyed listed or protected buildings in the hope of replacing them with profitable housing.
As fines seem to have had little effect in deterring rogue developers, it has been proposed to change current legislation to give planners extra powers.
Where a listed building is demolished illegally, the planners would be able to make the developer or owner rebuild it exactly as it was.
The bill could run into millions depending on the structure.
Another problem has been a lack of any information on heritage crime. Arson or illegal demolitions of listed properties have never been recorded as such.
That means no-one has any real idea of just how big the problem is.
It has now been decided that the government's Environment Agency (NIEA) and the police will co-operate to develop proper records of heritage crime.
It could include anything from divers stealing from protected wrecks on the seabed to the removal of archaeological remains.
Mr Attwood told the summit: "I am encouraged to see the progress which has been made across a wide range of issues since I called the first heritage crime summit in August.
"The recent issue of an urgent works notice by my department, which required that emergency repairs be carried out to the Tyrone Courier building in Dungannon, reflects the seriousness with which I regard this issue."
He also revealed that he is to review the powers of local councils who currently have no real powers to intervene when a building falls into a state of disrepair.