Mortgage debt 'hits home' as householders struggle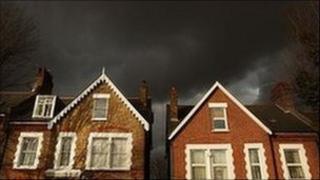 The Irish property crash has left an estimated 300,000 homeowners in the Republic with mortgages that are bigger than the value of their homes.
Solving that personal debt crisis was identified by President Clinton as key for the Irish Government if it wants to see its domestic economy grow.
The government has just published some early ideas, but debt forgiveness - whereby the negative equity is written off - was not among them.
Too expensive, at about 14 bn euro.
Instead, the report recommends a case-by-case approach; reforms to the bankruptcy legislation and the creation of an independent mortgage advice agency.
Its most radical proposal is a scheme whereby people threatened with losing their homes would instead see ownership pass to a state-sponsored social housing body from whom they would then rent.
A huge issue in the Republic of Ireland, the issue of negative equity and mortgage arrears has yet to feature on the agenda north of the border. But the economic facts suggest it should be given the same priority.
According to research by the Council for Mortgage Lenders, 28% of homes in Northern Ireland with a mortgage taken out since 2005 are in negative equity. That is an estimated 44,000 homes.
It puts the region firmly at the top of the UK league table.
The number of mortgage cases being dealt with in the courts, such as repossessions, has risen 60% in the last five years.
And, in its annual report, the Citizen's Advice Bureau reports a worrying surge in people having problems paying their mortgage.
Mortgage debt within its case load has risen by 64% within the last year and by 1,801% since 2007-2008.
Chief Executive Derek Alcorn warned that if interest rates rise - and they cannot go any lower - many more people will find themselves in trouble with mortgage repayments.
He said there is "some evidence that lenders are already lengthening the term of loans".
There is no sign of interest rates increasing any time soon, but they cannot remain at their historic low of 0.5% indefinitely. Householders finding incomes squeezed due to rising food and fuel prices, and increasing unemployment, can only add to the arrears problem.
Looking ahead, there is little to suggest a bounce in property prices will rescue the situation.
Research by Oxford Economics demonstrates that prices could fall further if the house price/income ratio returned to its pre-boom level.
On that measure, prices in Northern Ireland have a further 36.6% to fall.