Firework explodes in Glentoran coach's face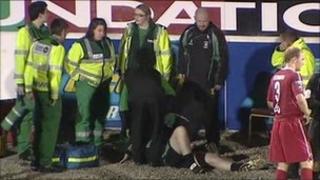 A Glentoran goalkeeping coach escaped serious injury after a firework thrown by a Portadown fan exploded in his face during a match in east Belfast.
Davy McClelland was badly shaken after the firework went off, knocking him to the ground and blowing his contact lens out of one eye.
Pete Batey, Glentoran's assistant manager, also received medical treatment after the explosion.
The firework went off in the dugout at the Oval stadium on Wednesday night.
The two men were later given the all-clear by a medical team.
More fireworks were thrown and the match organisers warned the crowd that, if it continued, the match would be called off.
The incident happened at a league cup third round match between Glentoran and Portadown.
East Belfast MP Naomi Long said she was "shocked and outraged" at the incident.
"I do not know what could possess somebody to throw a firework in the direction of another person," she said.
"Fireworks are extremely dangerous and if not handled correctly then they can have the potential to severely injure or even kill."