Man, 30, arrested over pipe bomb in Antrim estate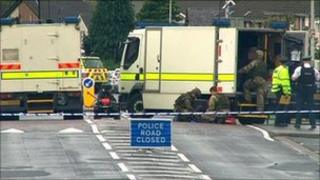 A man has been arrested in connection with a pipe-bomb attack on the home of a couple in Antrim's Steeple estate.
The 30-year-old man was arrested in the town on Wednesday evening.
The device was left on the windowsill of a Polish couple's home at Seacash Drive on Wednesday morning.
Nearby houses were evacuated while army bomb experts dealt with the device. A loyalist group called the BBC on Wednesday to say it carried out the attack.