Belfast airports' profits squeezed as competition increases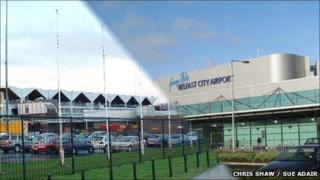 Profit figures at Belfast's two airports suggest increased competition is squeezing profits at both.
Belfast City Airport made a £15,000 pre-tax profit on a turnover of £17.1m in 2010, down from £433,000 in 2009.
Belfast International Airport saw its pre-tax profit drop 11% to £1.6m on a turnover of £30.6m in 2010.
Reduced profits could starve both airports of investment and raises questions about a small region having two airports in direct competition.
The City recently lost a Flybe route to Liverpool and a BMI Baby route to Manchester.
However it will soon see its first direct European flights take off with BMI adding Amsterdam and Geneva this year, with Ibiza, Faro, Malaga and Palma in 2012.
The International Airport will fill the Manchester void with a new Easyjet route.
Planning issues have also had an impact on both airports. The City has faced some tough challenges with its plans for a runway extension referred to a public inquiry and moves to lift its cap on seat sales being put into reverse by new planning Minister Alex Attwood.
The runway issue was cited by Ryanair as the reason it departed the airport for good last October. It now seems the public inquiry will not begin until well into next year.
Planning has also affected the International. Its accounts show an £18m write-down on the value of property assets - previous company plans had envisaged a huge business park at the County Antrim site.
Domestic routes
Reduced profits could starve both airports of necessary investment and calls into question the wisdom of a small region such as Northern Ireland having two airports that compete head-to-head for business.
The City Airport was conceived as a low volume, high margin operation - focussing on the business traveller.
But with business class travel on domestic routes now largely a thing of the past, the airport has been forced to chase a wider range of customers.
With margins reduced, the only way to make money is to increase volumes - hence the efforts at the City to lift the seat restrictions and extend the runway.
While aviation policy remains a reserved matter, industry sources say Stormont could be more pro-active in shaping a regional strategy.
For example, most successful airports are linked to their host city by dedicated rail services.
Both Belfast airports have railway lines that run past their doors but neither is connected into railway infrastructure.