Man says he was targeted because partner is a Catholic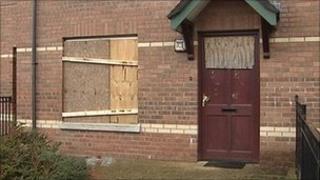 A man whose house was attacked by a gang of masked, armed men in east Belfast has said he believes he was targeted because his girlfriend is a Catholic.
The couple's two-year-old was also in the house in Derwent Street when the attack happened around 20:00 BST on Monday.
The toddler received a cut to her forearm as a result of broken glass.
Chris Smallwood said he is too scared to return to his home.
He told the BBC's Nolan Show that he had just returned to his house on Monday night when the attack happened.
"I put a DVD on and me and the child were sitting watching a DVD," he said.
"My partner Stacey had actually phoned me and I was talking away to her.
"It was while I was on the phone to her that I had seen these guys coming into my garden."
Mr Smallwood said there were "at least" 10 of them.
"One went to the window and they lined up from my railing right across the front of my house," he said.
"They started putting the windows in with bricks, hammers, shouting 'get the f*** out', so I just lifted the child.
Screams
"There was glass flying everywhere, there were bricks coming into the house at this point, I'd lifted Alisha and I ran into the kitchen."
He said his daughter was screaming.
"She didn't know what was happening," he said.
"She was saying 'daddy, daddy, daddy', and I didn't know what to do, I was standing looking at her and I didn't know whether to cry.
"I ran to the kitchen door which divided the living room and the kitchen and I was looking outside just watching them destroy my windows and destroy my door.
"I was shouting out at them, 'I've got a child in here', and they carried on putting the windows in."
It was a terrifying time for his partner Stacey, who was powerless to help.
"I was on the other end of the phone, I heard everything, squealing, shouting, glass hitting the floor, banging," she said.
"I thought he was getting beaten to death. I was crying, my daughter cut with glass in her hair."
Mr Smallwood, who is a former soldier in the British army, explained what happened after all the glass had stopped breaking.
"One of the masked men put his head through the broken part of the window and he said 'you have 24 hours to get out, you fenian loving b******', so that kind of made me think that it was a sectarian attack."
Stacey, who is expecting the couple's second child, said her daughter had been badly affected by the attack.
"She just doesn't want the bad men to come near her or her daddy again," she said.
'Bad men'
"She wakens up and says, mummy we don't want to go to daddy's house.
"When she talks she trembles, she just wants to cry and she said 'the bad men are coming to get me and my daddy'.
"At two years of age, she's coming off with that. She's crying in her sleep, waking up in her sleep, crying."
Mr Smallwood said he is too scared to return to his home.
"They've done what they came to do, they've scared me out of the house and they scared my family too," he said.
"I'm at the bottom now, I can go no lower. I'm out of my house, I've nowhere to go, I'm homeless.
"Times should be changing, there are more important things going on in the world than a Protestant going with a Catholic.
"It will only make us stronger.
"People have always tried to split us up, but we've always stuck by each other."