Fireworks and cash seized by PSNI in Downpatrick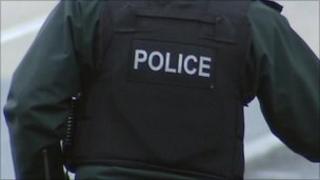 What police have described as a "substantial amount" of illegal fireworks has been seized in Downpatrick.
Police found the fireworks during the search of a house in the Ballymote area on Wednesday morning.
Five thousand pounds in cash was also seized, along with a mobile phone and a laptop.
PSNI Chief Inspector Deirdre Bones said the fireworks were "potentially very dangerous".
"Just recently we had a boy badly injured when a firework was thrown at him - he had to receive hospital treatment," she said.
"When fireworks are sold or kept illegally, people can get hurt.
"Searches and seizures like this are part of the PSNI in Down's strategy to keep the community safe."