Ballymoney Cycling Club and Dalriada launch bike scheme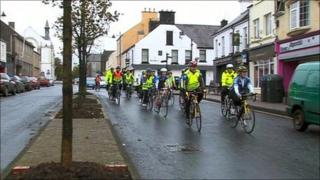 Thinking about taking up cycling but don't have a bike?
Well, that is no excuse in Ballymoney - people in the County Antrim town are getting back in the saddle again thanks to an £18,000 investment by Sport NI.
Ballymoney Cycling Club and Dalriada School united to come up with a unique idea.
They used the funding to buy 14 bikes, three tandems, one tricycle and four state-of-the-art indoor bikes to be used by the whole community.
The equipment will be stored at the school but anyone in Ballymoney with an interest in cycling can come and try it out.
Alan Moneypenny, from Sport NI, said they have never seen a scheme like it anywhere else and are hoping to use it as a template in other areas.
"People of vision here in the town of Ballymoney had an idea. They created a partnership and came to us for funding," he said.
"I think what has emerged is an absolutely marvellous template. It is an example of good practice that hopefully will be repeated across the country.
"We've got everything here. We have got the specialists, the elite, the recreationists, we've got disabled people, it's absolutely marvellous. But I think the underlying factor is it's the entire community involved.
"Everybody in the town is involved and can be involved. Basically it's as simple as getting a key to a gate and coming in and getting a bike."
The "Try it and see if you like it" scheme was launched this week at Dalriada.
Tandems
Pupils from the school cycled to Our Lady of Lourdes and Ballymoney High School, where they were joined by other students, before cycling through the town.
Annie Gault from Dalriada said: "I think it's good because it gives everyone an opportunity to get out, maybe if they don't have their own bike at home.
"Now they can come to school and get the opportunity to go out and cycle," while Aoife Cameron-Mitchell, also from Dalriada said: "I think it's a great opportunity that we have bikes that can be shared with the community, and this will mean a better relationship with people around us."
Brad Lyons from Ballymoney High School took part in the launch.
He said: "I play football and it helps your fitness and its good fun and everyone can do it."
His school friend, Louis McIlveen added: "I think it's good. Some people are not so good at mainstream sports at our school and now they can actually go out and have a bike - because almost everyone can ride a bike and it's fun and it's good for your fitness."
Rachel O'Loan, from Our Lady of Lourdes said: "It's very good and it's a great experience for everyone else in the community. To get the loan of a bike and go cycling - it's getting everyone involved."
Three tandems were bought so that those with disabilities can also experience cycling outdoors.
Stephanie Stewart is blind. She said she is determined to return and try the bikes again.
"It's wonderful being involved in something like this because you're out and you're doing something and you're getting involved in sport and it's really good fun," she said.
However, she did hint that she hopes her father will buy her a tandem in the near future (Stephanie's father, take note!)
Virtual reality bikes
As well as the outdoor bikes, the funding was also used to buy two hi-tech indoor exercise bikes and two virtual reality ones.
Maurice McAllister from Ballymoney Cycling Club said: "The Watt Bikes are used by the British Federation to train their Olympic cyclists. That is another aspect of the high performance end we have here."
"The virtual reality bikes mean people can come along and experience a nice side of cycling. They can sit in here, even though it is snowing or blowing a gale or raining outside, and they can ride the Alps, the Pyrenees or through the leafy lanes of Italy and still be in the centre of Ballymoney."
Colin Thompson, also a member of Ballymoney Cycling Club, is hoping the scheme will encourage more people to take up the sport.
"Our aim is to let people in the community dip their toe into the water again, perhaps after a number of years of not cycling," he said.
"Also, with the equipment we have here, in particular the high performance end, we can encourage and nurture and develop young people and maybe develop cyclists in the future."
Dalriada headmaster Tom Skelton was enthusiastic, but was he leading by example?
"With the hi-tech equipment, our GCSE and A-level students can use it," he said.
"Also, Ballymoney Cycling Club has access to our building and they can come in during the evenings and Saturdays and after school and use the facilities, so it is very much a shared community space.
"I haven't been allowed to get on the bikes today, but I hope to get round to it in due course.
"During the summer holidays I did sneak out a couple of times when no-one could see me!"
All I can say is, excuses, excuses, excuses….