Many people affected by the Troubles still need help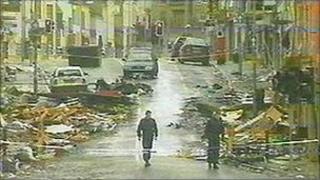 The director of a trauma centre which is due to close has said a significant number of people affected by the Troubles still need help.
The Northern Ireland Centre for Trauma and Transformation is due to close in December because of a funding shortfall.
It was set up to support people affected by events such as the Omagh bomb and the 9/11 attacks.
David Bolton called for trauma services to be developed in Northern Ireland.
"There is undoubtably a significant number of people in the community still suffering from trauma related needs linked to the violence, who need help and can be helped if the right services are provided," he said.
"So on their behalf, as witnesses to the suffering that we have seen through the centre, but also to the hope that is there for people to receive the right treatment, then we would make the case for these services to be developed.
"Not just in Omagh, but elsewhere across Northern Ireland."
The centre's counselling, research and training skills have been shared with organisations around the world since its establishment in 2002.
"We've worked with the staff care unit of the Fire Department, the Port Authority and the Police Department in New York (after the 9/11 attacks)," said Mr Bolton.
"They came over to us and we had a workshop with them and then we went back to New York and did some training there.
"We also worked in Sri Lanka after the tsunami, in Sarajevo we worked with therapists dealing with the consequences of the Balkan conflict and latterly we had a two-year programme in Nepal, which we delivered in partnership with a social worker from Nepal whom we trained in Omagh."
Barney Devine, the centre's business and fund raising manager said a lack of regular funding over the past few years meant they were left with no option but to close.
"Since 2008, we had two one-year periods and in the last 18 months, we've had three funders of six months, so the consequence of all of that has meant that from a strategic point of view, it has made it very, very difficult for us to recruit and retain key staff members," he said.
The centre has helped more than 600 people, including those affected by the Omagh bomb and the American 9/11 attacks.
It has also trained more than a thousand others to help.
A trauma therapy service was developed in Omagh after the August 1998 bombing in which 29 people and two unborn babies died.
More than 200 people were injured.
The trauma centre grew out of that service.