Laser pen shone at police helicopter in Downpatrick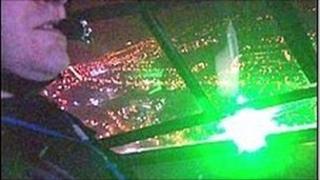 A laser pen has been shone at the pilot of a police helicopter in County Down.
The aircraft was flying over Downpatrick on Wednesday evening in support of a police patrol when the laser was shone directly at the pilot.
The light appeared to come from a house in Orchard Grove.
Officers called with the occupant of the house, who was cautioned, and a report of the incident has been passed to the Public Prosecution Service.
The PSNI commander for the area, Ch Insp Deirdre Bones, reminded people that these sorts of incidents are not harmless pranks.
"This is not a joke. This is a crime. Pointing laser pens and lights at aircraft has the potential to blind or distract the pilot," she said.
"The consequences could be disastrous. A blinded pilot could lose control. This was a police helicopter, flying over a heavily populated area.
"I can't imagine the devastation that could be caused if a pilot was forced to lose control."