Bangor Queen's Parade 'on track' despite firm's money problems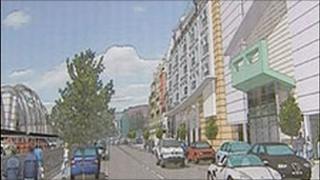 The Department for Social Development (DSD) says plans for a major regeneration project in Bangor remain on track.
This is despite the financial problems of one of the developers involved in the scheme.
On Thursday, MAR Properties reported a £22m annual loss.
Its auditors said there was "significant doubt" about the firm's ability to continue as a going concern.
MAR has a 25% stake in the consortium which has been selected for the Queen's Parade project.
DSD said it was satisfied the consortium could deliver and expects to sign a development agreement early next year.
The Karl Greenfarm Properties consortium consists of MAR and two other firms. DSD made it the "preferred developer" in 2009.
A DSD spokesman said the department was aware that MAR, "like many other property companies, is facing financial challenges in the short term due to the current state of the property market."
'Can deliver'
However, he added that DSD was satisfied that those challenges did not present any risks to the delivery of the scheme
He said DSD had undertaken "a detailed financial due-diligence examination" of the consortium and is satisfied that it has the financial and management capability to deliver.
Negotiations between DSD and the consortium are continuing which DSD said should lead to the signing of a development agreement in April or May 2012.
Following that, Karl Greenfarm Properties will apply for planning permission, a process which could take as long as two years.
The regeneration of Queen's Parade has been more than 10 years in the planning and has suffered a series of set-backs and delays.
It should ultimately result in a mixed use scheme of shops, restaurants, offices and apartments.