Pat Finucane's family 'to set record straight'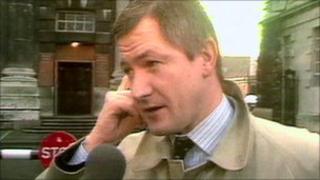 The family of murdered solicitor Pat Finucane have said they want to "set the record straight".
They plan to speak out on Friday about the government's decision not to hold a public inquiry into the murder.
Instead, Prime Minister David Cameron said a review of the papers relating to the killing would be carried out by a leading QC.
Mr Finucane was shot in 1989 by loyalist paramilitaries at his north Belfast home.
The Finucanes travelled to Downing Street on Tuesday to be told that an independent public inquiry would not be held.
The family cut short the meeting.
Speaking afterwards outside Downing Street, Mr Finucane's widow, Geraldine, said she felt so angry she could hardly speak. The Finucanes said they felt insulted, upset and disappointed at being offered a review of the case.
They said they would continue their campaign for an independent public inquiry and would not participate in the review.
When he was prime minister, Tony Blair agreed to set up an inquiry, but a fresh investigation was never established.
Before the meeting on Tuesday, the government said they hoped the Finucane family would be satisfied with their response.
The family will set out their position in more detail in Belfast on Friday.