DUP candidate charged with pipe bomb offences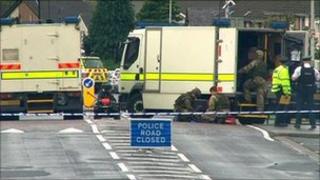 A DUP candidate in this year's council elections has appeared in court charged with pipe bomb offences.
John Smyth Junior, 30, is a security guard from Birch Hill Park in the Steeple estate in Antrim.
He faces charges of making explosives with intent to endanger life and making explosives under suspicious circumstances.
The charges are linked to a pipe bomb found on a window sill of a Polish couple's house in the Steeple estate.
The device was discovered at the property in Seacash Drive on Wednesday.
Ballymena Magistrates Court was told that Mr Smyth Jnr is being treated for manic depression and recently tried to take his own life.
His lawyers said he was no threat to the Polish community or any other foreign national.
However, Judge Danny McGill said he was satisfied with police concerns over the potential interference with evidence gathering and witnesses.
He remanded Mr Smyth Jnr in custody to appear in court again next month.
John Smyth Jnr was a DUP election candidate in this year's council election but failed to win a seat.
A DUP spokesman said Mr Smyth Jnr had been suspended from the party pending the outcome of the case.