Woman is tied up during Jordanstown burglary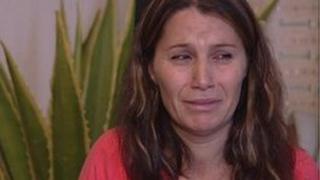 A woman has spoken of her ordeal after being tied up and threatened during a burglary in Newtownabbey.
A gang of masked men broke into the house at Lismore Place off the Jordanstown Road at about 20:30 BST on Friday night.
The gang ransacked the house and stole money and belongings.
Pranvera Cufaj, who is originally from Albania, said she was told her family would be harmed if she did not do what the gang demanded.
She has been living in Northern Ireland with her husband Fatos and their four children for several years.
Pranvera was alone in the house at the time of the incident.
"I had my phone close to me and tried to ring my husband," she said.
"They knew that I had the phone and they took it off me.
"I tried to move to the window to scream to get help, but one of them said if you move you will get killed.
"He said I know where your children are and your husband.
"I was very scared, I am very scared to stay here."