Dana back on campaign trail after 'sexual' allegations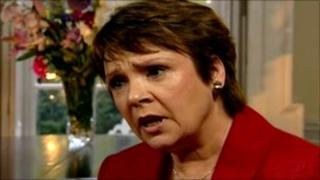 Dana Rosemary Scallon has returned to the presidential campaign trail.
It follows claims that "malicious lies" of a "sexual nature" had been spread about a member of her family.
On Friday Ms Scallon told TV3 News that she had been warned by a freelance journalist that the allegations were due to appear in the Irish press.
She spent Saturday canvassing in County Galway, where she now lives.
Ms Scallon said the warning from the journalist prompted her to make a statement during a presidential debate on RTE on Wednesday.
She told viewers that she was taking legal action over the claims.
Although she initially refused to state what the "untrue, malicious and vile" allegations were, she admitted on Friday that they were of a sexual nature involving a relative.
She also referred to a "threatening" email she had received, which is understood to have originated in the US.
"I had received an anonymous email on the Saturday night. It wasn't signed," she said.
"I won't be able to share all that was in the mail. It said 'hahahahaha the b**** is finally getting what she deserves' and went on from there to make false accusations."
Ms Scallon said the claims were part of an "orchestrated campaign" against her.
There had been speculation that she may withdraw from the presidential race, as she had stopped campaigning for a number of days.
She said she took the time off to receive legal advice on the family matters under scrutiny and was now moving forward to concentrate on the election.
The six other candidates in the Irish presidential race - Fine Gael's Gay Mitchell, Labour's Michael D Higgins, Sinn Fein's Martin McGuinness and independents Mary Davis, Sean Gallagher and David Norris - are also continuing to canvass ahead of the election on 27 October.