Minister says Prison Service needs 'fundamental reform'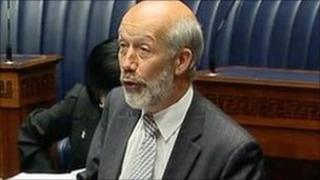 The justice minister has given his backing to a "fundamental reform" of the prison service in Northern Ireland.
David Ford has accepted the findings of a Criminal Justice Inspection report but said the necessary changes may take some time.
The report centres on the resettlement of prisoners once they are released.
The minister accepted that complete reform of the prison service was required, but said it could "take years to implement".
"The prison service accepts the inspection's conclusion that there is still a need to develop better outcomes for prisoners," said Mr Ford.
"This can only be fully achieved by a fundamental reform of the prison service. This is a huge challenge for everyone within Northern Ireland Prison Service (NIPS) and will take years to implement.
"The ethos envisaged by the Strategic Efficiency and Effectiveness Programme and the structures already put in place to deliver the necessary reforms will help to underpin more effective delivery of services to prisoners."
Dr Michael Maguire of the CJI said he believed the adequate resettlement of prisoners could cut reoffending rates, which currently stand at between 50-70%.
"This is about public protection. And if we can reduce rates, we can reduce the number of victims and the number of people who have to go to court," he added.
Max Murray, director of Offender Services in NIPS, said he was also committed to following up on the report's findings.
"The report provides a useful template for taking offender resettlement to the next level, and its recommendations will be folded into the service's wider reform agenda, being delivered through the SEE Programme," he said.
"There is, undoubtedly, a need to develop a more outward-facing approach, working more effectively with existing partners, and seeking out and developing new relationships, particularly in high risk areas."