Parent pulled baby girl from Robinson Centre pool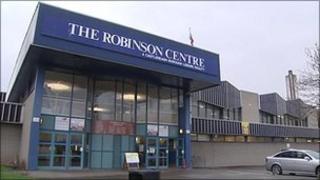 Castlereagh Borough Council has given more detail about who rescued a baby girl found floating in a swimming pool at the weekend.
A parent pulled the toddler, who is 13 months old, from the water after she was found face down in Robinson Centre pool at 10:30 BST on Saturday.
The council said a member of staff then performed CPR on the child.
The council's director of leisure services said the pool was not open to the public at the time.
"She was recovered from the pool by another parent and treated by council with CPR," Heather Moore said.
"It was the council's own officer who carried out CPR in the First Aid room adjacent to the pool side."
Ms Moore said an investigation into how the child ended up in the water has been launched.
It is understood that the toddler was in the changing rooms with her father and two other children. She was not having swimming lessons.
Whilst her father was helping to change one of the others, the girl entered the pool area, where she fell into the learner pool.
As soon as he realised she was missing, her father and another parent ran back to the pool area, where the toddler was found floating face down in the water.
"We need to look into why this happened. It is an area which was not open to the public at that time," Ms Moore said.
"We need to look at issues including children who are not participating, children who are spectators - it is an investigation which includes dry-side as well as wet-side policy."
The toddler was taken to the Royal Victoria Hospital. She returned home on Sunday.
Castlereagh Borough Council praised its staff for their rapid response.