Rise in turnover for County Down firm John Graham Holdings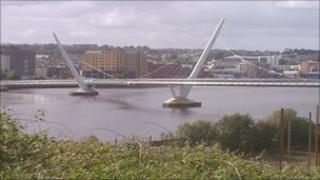 One of Northern Ireland's largest construction firms has recorded increased turnover for 2011, although profits have slipped back slightly.
John Graham Holdings made a pre-tax profit of £4m on turnover of £218m in the year to March.
That compares to a pre-tax profit of £4.4m on turnover of £211m in 2010.
The firm is based in Dromore in County Down and employs around 1000 people working on contracts across Ireland and Great Britain.
Although Northern Ireland is experiencing a deep recession in the construction sector, John Graham Holdings has managed to stay profitable through the downturn.
One of the firm's most high-profile recent projects was the building of the Peace Bridge across the River Foyle.
The firm is also working on a major project to build a radioactive waste disposal facility at the Dounreay site in Scotland.
The directors said the performance in 2011 had been satisfactory given the current economic conditions.
They added that the outlook for the construction sector "remains challenging" as the government cuts capital expenditure.
However, they believe that with the level of secured contracts the firm is "well positioned" for the year ahead.
All of Northern Ireland's largest building and civil engineering firms showed profits for 2010, but John Graham Holdings is the first to report on its 2011 performance.