Etihad in talks to buy stake in Aer Lingus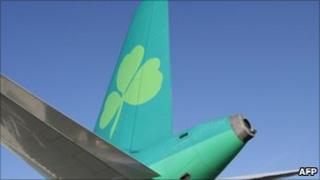 Etihad, the Middle Eastern airline, is reportedly in talks to buy the Irish government's 25% stake in Aer Lingus.
The Financial Times has reported the approach came after the Etihad chief executive met the Irish prime minister, Enda Kenny, at a recent investment conference in Dublin.
The Irish government announced in September it would sell its stake in Aer Lingus.
The government said it would not sell it for less than 1 euro per share.
This would value the stake at 132m euros (£116m.)
The Financial Times cited people with knowledge of the move as saying it is unclear how far talks have progressed and that they might not result in any deal.
Aer Lingus and Etihad have not commented.
Etihad, which is based in Abu Dhabi, is well-known for being the major sponsor for Manchester City FC.
Etihad began operating in 2003 and carried more than 7m passengers in 2010.