Tyger! Tyger!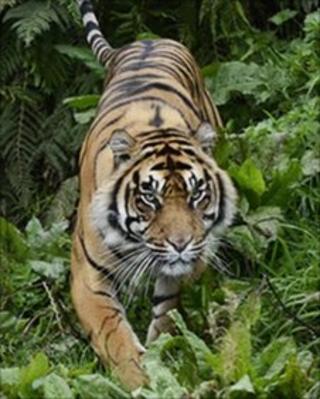 Tom Adams has won first prize in the annual Belfast Zoo competition with his picture of a tiger.
There were more than 480 photographs entered in this year's contest.
Among the winners were father and son, Andrew and Michael Colhoun. Andrew's winning picture featured a gorilla and Michael's was a photograph of a tiger.
Colin Gamble won best black and white photograph with his picture of an otter.
Valerie McKee took a second and third place in the competition for her photographs of a tawny frogmouth and a Rodrigues fruitbat.
Zoo manager Mark Challis was delighted with the response to the competition.
"Every year it seems to get harder to pick a winner," he said.
"There were so many wonderful photographs submitted and the quality of entries was so high that we simply had to increase the number of awards to reflect this.
"The competition also saw a first this year as father and son, Andrew and Michael Colhoun, both won their respective categories."
Winning photos can be viewed on the Belfast Zoo website or on Facebook.