Pipe bomb found during Antrim Road, Belfast, alert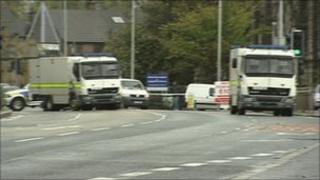 A pipe bomb has been found during a security alert in north Belfast.
Army bomb disposals experts were called to the Antrim Road after a suspect object was found on Monday morning.
After examining it, they declared it a viable pipe bomb. Part of the Antrim Road was closed during the alert, as was Salisbury Avenue.
The roads have now been reopened and residents who were moved from their homes have been allowed to return.
Sinn Fein's May Ellen Campbell said lives had been put at risk.
"This pointless attack put workers' lives at risk as they arrived on site and found the device," she said.
"The pipe bomb caused disruption to local residents who were evacuated from their surrounding homes."