Robert Black trial: Jury hears defendant spied on young girls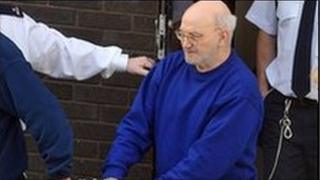 The jury in the Jennifer Cardy murder trial has heard that child killer Robert Black used to spy on young girls as they changed at beaches.
The admission came in tapes of interviews Black had with police in Northern Ireland in 2005.
The 64-year-old denies murdering the schoolgirl in 1981 in Ballinderry.
In the interviews Black admitted to a sexual interest in young girls but would not accept his guilt for any of the murders of which he was convicted.
In them, Black can be heard describing how he would watch the girls in "the hope of catching a glimpse of their private parts".
Then - once they were dressed - move on to another part of the beach to look for other girls in the eight to 12 age range.
The tapes were played to the jury at Craigavon Crown Court, sitting in Armagh, where Black is on trial accused of the abduction and murder of nine-year-old Jennifer near her home in Ballinderry.
With the girl's family listening on from the public gallery, the jury heard him give a graphic account of his desires and fantasies surrounding young girls.
In the interviews, as in those carried out by the RUC nearly a decade before in 1996, Black freely admitted to having a sexual interest in children.
Those interviews were two years after he was convicted of the murders of three young girls.
In them, he continually refused to acknowledge his guilt and denied knowing anything about Jennifer's death.
RUC detectives travelled to England to interview Black about Jennifer's abduction and murder after unearthing the evidence they believed proved he was in Northern Ireland on 12 August, the day she went missing while out riding her bicycle near her home.
At one point, the detective interviewing him suggested that he was simply unable to face up to what had had done or even the word "killer".
Black replied: "I don't like the idea of people thinking of me as a killer."
Later he said: "I've no wish to harm children in that way."
New investigation
In one chilling passage, he described how sometimes he was able to exercise self-control.
He recalled a young girl appearing close to his van while it was parked near a viewpoint. She was crying and had lost her mother.
Black told the police officer how there was no-one around and it would have been "easy" for him to have bundled the little girl into his van, but that - instead - he took her by the hand and walked her back to her mother.
Earlier, the jury heard how the bicycle Jennifer was riding on the day she went missing was later given to a charity to help people in Romania.
The revelation came while the jurors were hearing evidence from a former detective chief inspector who was brought out of retirement to help prepare this case.
Stephen Clarke's familiarity with the case stretches back to the day Jennifer first went missing.
Then, as a young uniformed constable, he helped search roads and fields near the Cardy home.
Twenty years later, in 2002, he became part of the renewed investigation into Robert Black.
He retired five years later, but has continued to be involved with the case.
On Monday morning, he discussed the 1992 IRA bomb at the forensic laboratories in Belfast, the formation of the Historical Enquiries Team and other events which had an impact on the physical evidence in this case.
None of Jennifer's clothing is now available, nor is any of the original fingerprint evidence.
The bicycle, which became so familiar to television viewers of the time, was given to charity by a sergeant at Lisburn police station about a decade later, in agreement with the Cardy family.