Plan for Belfast nightclub 'El Divino' is 'horrific'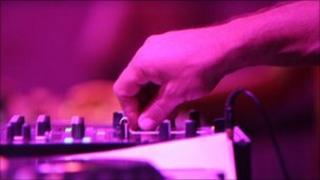 A Belfast woman living near the site of a proposed new nightclub has said the prospect is "horrific".
Police have already said "El Divino" on the site of "The Edge" bar and close to the east Belfast interface could be a public safety risk.
Alison Clarke, who owns an apartment near the proposed club, said a "bass beat would boom out and reverberate off our walls".
The club's owners said they are investing £1m and creating 60 jobs.
'Horrific prospect'
Ms Clarke said the proposal was for an "Ibiza-style club" which would be open four nights a week until 03:00.
She added: "There are 95 apartments in the immediate vicinity of the building where the club is proposed to operate and probably the same number across the river.
"The sound will probably just boom across the river and back again from those walls and just the very prospect is horrific."
Police have already submitted an objection to Belfast City Council's licensing committee, pointing out that the club is not in one of Belfast's main entertainment areas, which they classified as Shaftesbury Square, the Cathedral Quarter and the Odyssey complex.
They also expressed concern about its proximity to the Lower Newtownards interface, the scene of serious sectarian clashes earlier this year.
On Monday, police confirmed that they had also received a complaint from residents living near the proposed nightclub and were in touch with both the proposed licensee and the residents.
'Amend licence'
The owners of the site have said that The Edge has been running club nights at the venue for the last seven years and that the new application is to amend the existing entertainment licence for the site.
Ms Clarke is also concerned about a shortage of car-parking in her St John's Wharf apartment block, with some residents currently having to park on the road.
She said she was worried about the safety of those vehicles, with over 1,000 clubbers - many likely to be drunk, she said, stumbling out on to the streets in the early hours of the morning.
A spokeswoman for Belfast City Council says the matter is to go to their licensing committee this Wednesday when residents will hear from the police and the objectors, with the final decision to be taken by the full council next month.