Just one-third of Northern Ireland students are Protestant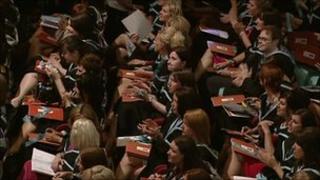 Just a third of the 35,000 students attending university in Northern Ireland are Protestant, according to new figures.
That means around two-thirds of people at Northern Ireland's universities are from a Catholic background.
The figures were released by Employment and Learning Minister, Stephen Farry, following a question tabled by MLAs Jim Allister and Gregory Campbell.
Less than a fifth of students at Magee College in Londonderry are Protestant.
There are considerably more Catholic than Protestant students at both Queen's University and the University of Ulster.
Overall, there are fewer Protestant school leavers but those who go to university are much more likely to study in the rest of the UK.
A spokesman for the University of Ulster said it does outreach work to encourage students from all backgrounds to study on its campuses.
He said: "It is a sad reflection of society here that the religious composition of our student population should be a matter for public comment.
"The University of Ulster is open to everyone and provides a first class educational experience for its students."