Insolvency company appointed to Ormeau Baths gallery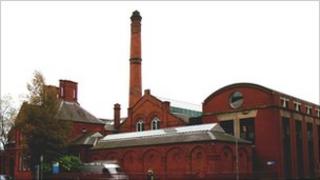 The chairman of the board of the Ormeau Baths gallery has said an insolvency practice has now been appointed to judge the viability of the gallery.
It will look at the accounts and contracts in the gallery and make a recommendation, possibly within days.
The gallery in Belfast city centre is known to have financial problems and it is understood to be likely to close.
A final decision will be made by the board, as soon as the insolvency report is received.
The gallery failed to open on Saturday, but the board chairman, Martin Bradley, said that was simply because staff could not get access to the buildings and that it will open as scheduled on Tuesday.
The Ormeau Baths Gallery was opened by the Arts Council in 1995 but is understood to have financial problems.
The gallery was created in what had been a public bathhouse and swimming pool, which had narrowly escaped demolition.
It has been getting £300,000 a year from the Arts Council but has struggled to raise enough private sponsorship to supplement its grant.
In the past it hosted high profile exhibitions of the work of leading artists such as Gilbert and George and Yoko Ono.