Eamon Gilmore hits out at Cameron over Finucane probe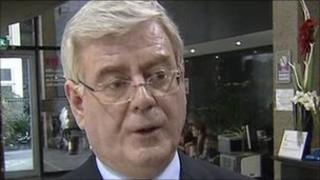 The Irish government has hit out at Prime Minister David Cameron over his refusal to order a public inquiry into the murder of solicitor Pat Finucane.
Irish foreign minister Eamon Gilmore said the issue was a matter of "frank disagreement" between the British and Irish governments.
Mr Finucane was shot dead by loyalist paramilitaries in 1989.
Last week, his wife walked out of a meeting with the PM after he told her a QC would review papers in the case.
Formal response
The Finucanes met with the Irish government on Monday after which Mr Gilmore said he believed the British were reneging on an agreement reached over the inquiry at the Weston Park talks in 2001.
He said the Irish government would be preparing a formal response in the coming days.
"There are sometimes occasions when frank disagreements arise between states," he said.
"This is one such occasion."
Mr Gilmore said the Irish prime minister Enda Kenny was only told about the decision to order the review by Sir Desmond De Silva QC in a telephone call from Mr Cameron shortly before the Downing Street meeting with the Finucanes.
The Finucane family's legal team will work with Irish government officials in the coming days ahead of the formal response from Dublin.
'Dark day'
Mr Gilmore said Ireland had an agreement with the British government over the investigation of certain murders involving alleged state collusion during the Troubles with which Mr Cameron's government had to comply.
"It is our view that what has been proposed by the British government falls short of that," he said.
Speaking after the meeting in Dublin, Mr Finucane's widow Geraldine said he had described last Tuesday's decision as a dark day for her family, the country and the rule of law.
"I do believe the (Irish) government are as upset about what happened on Tuesday as the family are," she said.
Mrs Finucane said she was disappointed Taoiseach Enda Kenny could not make the meeting but said it was clear anything Mr Gilmore was pledging had the full backing of the Taoiseach.
'Disingenuous in the extreme'
Michael Finucane, son of Pat Finucane, described the fall-out as a significant diplomatic incident.
Mr Finucane said the British government had reneged on a bi-lateral political agreement and he understood the Irish government was seeking the legal advice of the Attorney General.
He said the British government had misled his family, the media and the Irish government.
"At the very least their actions are disingenuous in the extreme," he added.
A UDA gang burst into Mr Finucane's family home in north Belfast, shooting him repeatedly as he ate dinner with his family.
The British government has accepted the findings of an earlier report by Sir John Stephens that there was state collusion in Mr Finucane's murder but has refused to order a full public inquiry.