'Why I quit': former Police Ombudsman chief Sam Pollock speaks out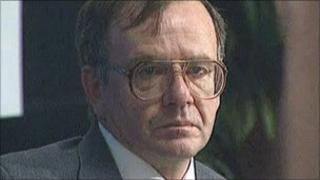 The former chief executive of the NI Police Ombudsman has said the handling of controversial cases like those involving informers was one of the reasons he resigned.
Sam Pollock said he walked away from his £90,000 a year job because he lost confidence in the direction and independence of the office.
Speaking in a BBC Spotlight programme, he said there were some matters that "you cannot fudge".
He resigned in April this year.
"I basically lost confidence in the direction of the office and the independence of the office in relation to very serious matters," he said.
"To speak about the involvement of an informant, either directly or indirectly in murder; the loss of life... some atrocities... you cannot fudge that and the office should not and never should step back."
Mr Pollock's resignation proved an embarrassment for Police Ombudsman Al Hutchinson.
In September, he announced he was to quit his job earlier than planned following the publication of a highly critical report.
The report found the independence of the ombudsman's office had been lowered by its handling of historical cases.
It also highlighted concerns involving the handling of sensitive material and divisions within senior management.
Mr Hutchinson had been due to retire in December 2012.
BBC NI Home Affairs correspondent Vincent Kearney's report on the crisis in the Police Ombudsman's office features on Spotlight at 22:35 BST on BBC One on Tuesday.