Colin Howell's estranged wife ordered not to remove assets from NI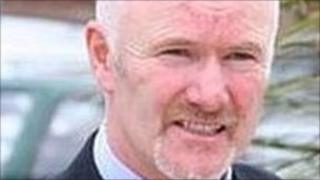 The estranged American wife of double murderer Colin Howell has been ordered not to remove any assets from Northern Ireland.
Kyle Jorgensen left to return to the United States after Howell was arrested by police.
She later filed for divorce.
Howell was jailed last year for the murder of his wife Lesley and Trevor Buchanan, the husband of his ex-lover Hazel Stewart. She was also sentenced to life in prison.
The bodies of Mr Buchanan and Mrs Howell were discovered in a fume-filled car in Castlerock in May 1991.
At the time it was thought to have been a double suicide - the truth only emerged in January 2009, when Howell confessed to murdering his wife and Stewart's husband.
In July, Howell was declared bankrupt owing more than £250,000 in tax.
Insolvency practitioners have successfully applied to restrain Ms Jorgensen, from "removing from Northern Ireland...disposing of...or diminishing the value of any assets in Northern Ireland."
On Tuesday in the High Court in Belfast, Mr Justice Deeny was told Ms Jorgensen had agreed to abide by the order whilst Howell's estate is sorted out.
Meanwhile after the conviction of Hazel Stewart last March for her part in the murders, the PSNI said they may wish to speak to Ms Jorgensen again.
This followed the claim by Howell that he had allegedly told his new wife about the murders in 1998, but that they had both agreed to keep the matter quiet.
The PSNI said that investigation is ongoing.