Pipe bomb at offenders' hostel in north Belfast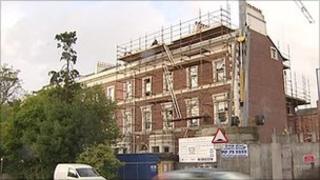 A pipe bomb found in north Belfast was left at the site of a hostel, currently being extended, which holds former prisoners, including sex offenders.
The building site manager came across the device while doing a routine check at Thompson House on the Antrim Road on Monday. The Army made it safe.
The hostel run by the Presbyterian Church offers accommodation to men leaving prison.
It was the focus of recent protests by local residents.
They were concerned at plans to resettle sex offenders in their community.
Linda Wray, residential services manager for the Presbyterian Board of Social Witness, said she would be "saddened" if there were a connection between the pipe bomb and protests in the community.
She moved to reassure people about the hostel.
"The men that are referred to us come via the Probation Board," she said.
"We work closely with bodies such as probation so that we can ensure that the men are well supervised and managed to be living both here in Thomson House and moving around the community.
"We are deeply saddened by the pipe bomb attack on the building site. I want to point out the damage it could have caused, not only to workmen, but to the local community and passers-by."
She said the hostel had been providing a service for almost 30 years now and is used to house a range of offenders, not just sex offenders.
When building work is complete, Thompson House will accommodate up to 19 men with a range of offending behaviour.