First NI taxi wardens recruited for Bangor town centre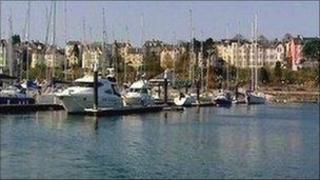 Getting a taxi home can be one of the main drawbacks of a night out.
Now one local council plans to make 'grabbing a cab' a little easier.
North Down Borough Council is recruiting what are understood to be the first taxi wardens in Northern Ireland.
They will work every Friday and Saturday night controlling queues at taxi ranks in Bangor, as well as preventing trouble.
Bangor town centre manager Stephen Dunlop said that recruitment of the wardens would increase safety in the town and reduce the risk of traffic accidents.
"At the minute different crowds would congregate as they come out of the pubs and clubs and we'd like to distribute that flow of traffic away from the front doors," he said.
The council wants to establish a new taxi rank at the McKee clock in the town centre.
Mr Dunlop said the wardens would also ensure that people are treated fairly when they are seeking a taxi.
"If they do jump the queue they will be politely asked to get back into the queue."
He admitted that a sense of humour would be an asset in the job.
"There could be a certain amount of banter.
"The Northern Irish character always seems to be able to make a joke and have a laugh at different situations."
The successful applicants will work from 21:30 BST to 02:30 BST every Friday and Saturday and be paid £10 an hour.